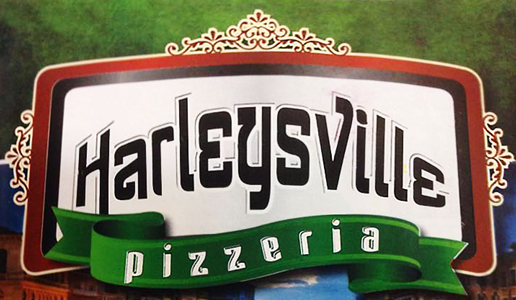 Pre-order your wings for the Big Game!

Harleysville Pizzeria
Located near the heart of Harleysville, Pennsylvania, Harleysville Pizzeria serves pizza among many other delectable items. We have many Italian Classics such as Baked Ziti, Ravioli, and Rigatoni Margherita. Also, try one of our Strombolis or Calzones! We are located at 625 Main Street near the Harleysville Pike. We are a short distance from the Daniel W Roth Memorial Park! Order online for delivery or carryout!
97%
of 692 customers recommended

Hours of Business

Sunday

11:00 AM - 9:30 PM

Su 11:00-21:30

Monday - Thursday

10:00 AM - 10:00 PM

Mo,Tu,We,Th 10:00-22:00

Friday and Saturday

10:00 AM - 10:30 PM

Fr,Sa 10:00-22:30

Delivery Hours

Sunday

11:00 AM - 9:00 PM

Monday and Tuesday

10:30 AM - 9:45 PM

Wednesday and Thursday

10:00 AM - 9:45 PM

Friday and Saturday

10:00 AM - 10:30 PM

Gyro,Greek,Dessert,Italian,Hoagies,Calzones,Gluten-Free,Pasta,Hamburgers,BBQ